Learn how to customize the opt-in prompt.
In this document we are going to walk you through setting up an opt-in prompt and then customization or your native (default) and custom opt-in prompts. There are several different options to choose from so, let's get started!
You can see how Native (default) prompts look here:
Native (default) Prompt - Mobile
Here are two examples of how Custom Opt-in prompts might look:

If you're looking for information on how to customize your opt-in prompts, you can find that information here:
Customizing The Native Opt-in Prompt
Customizing The Custom Opt-in Prompt
Here's a basic run through on setting up an opt-in prompt:
Steps
Start off by logging into your Aimtell account and opening your dashboard. From there, click on 'Opt-In Prompts' located in the navigation bar on the left side of the screen under 'Websites & Set Up'.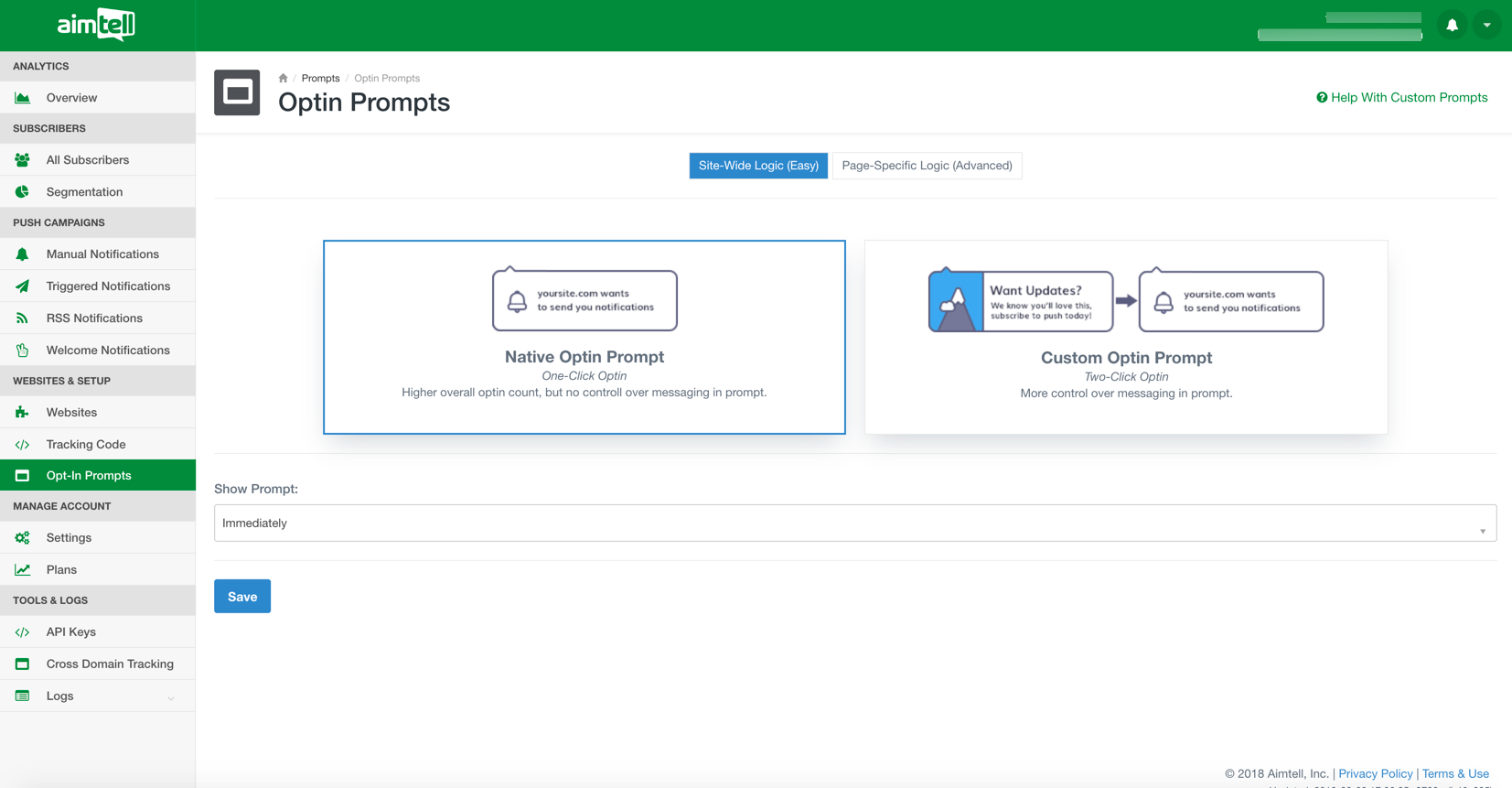 This will take you to a selection of either using the Native Opt-in Prompt or a Custom Opt-in Prompt for your website. Select 'Custom Opt-in Prompt'.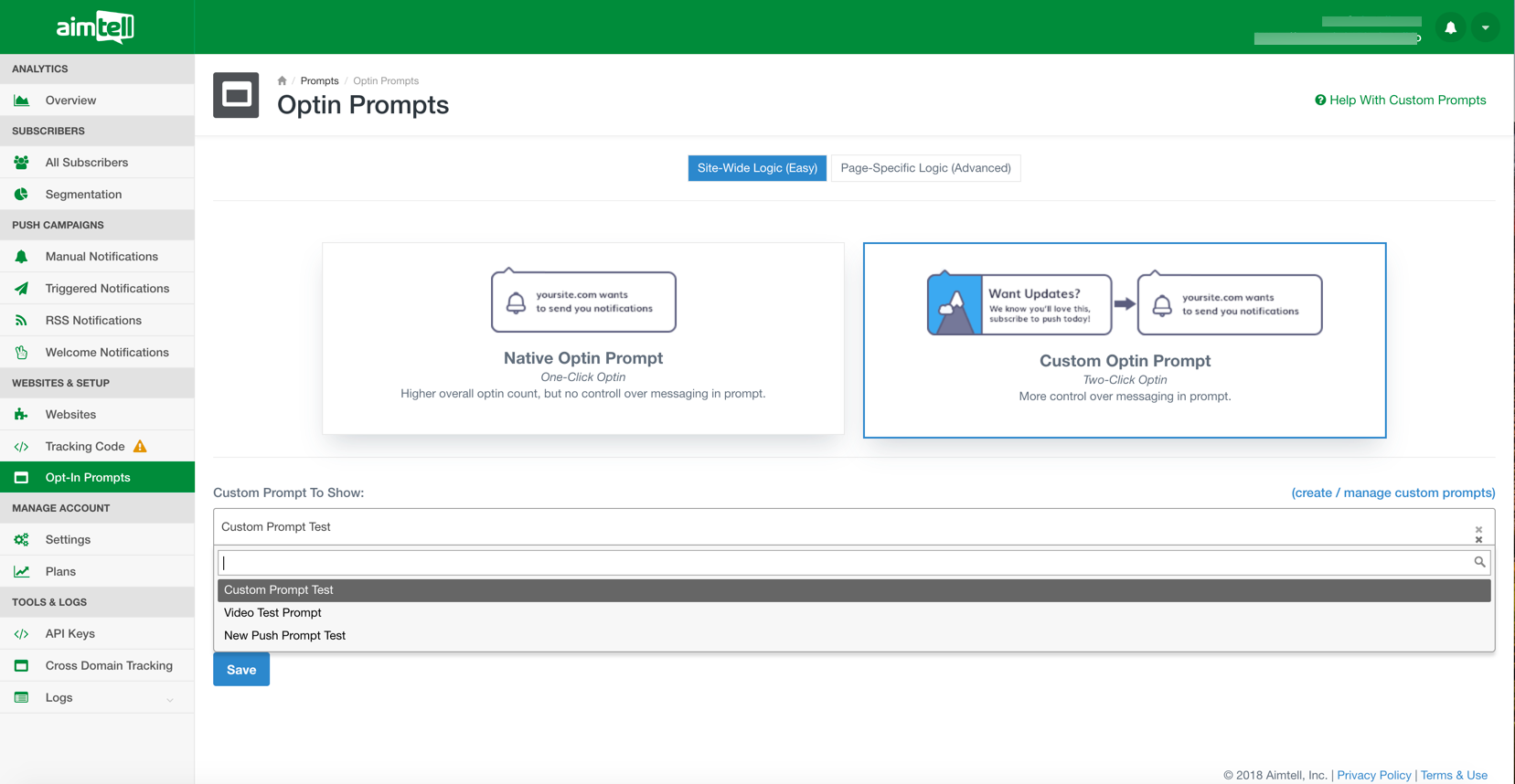 Once you select 'Custom Opt-in Prompt' a drop down of Custom Opt-in Prompts that you have created will be displayed. If you have not created a Custom Opt-in Prompt and would like to create a new one, click on the blue text that says 'Create/Manage Custom Opt-in Prompts'.
This will bring you to the page where you can manage your custom prompts. If you would like to create a new custom prompt, click on the blue button that says "Add Custom Prompt".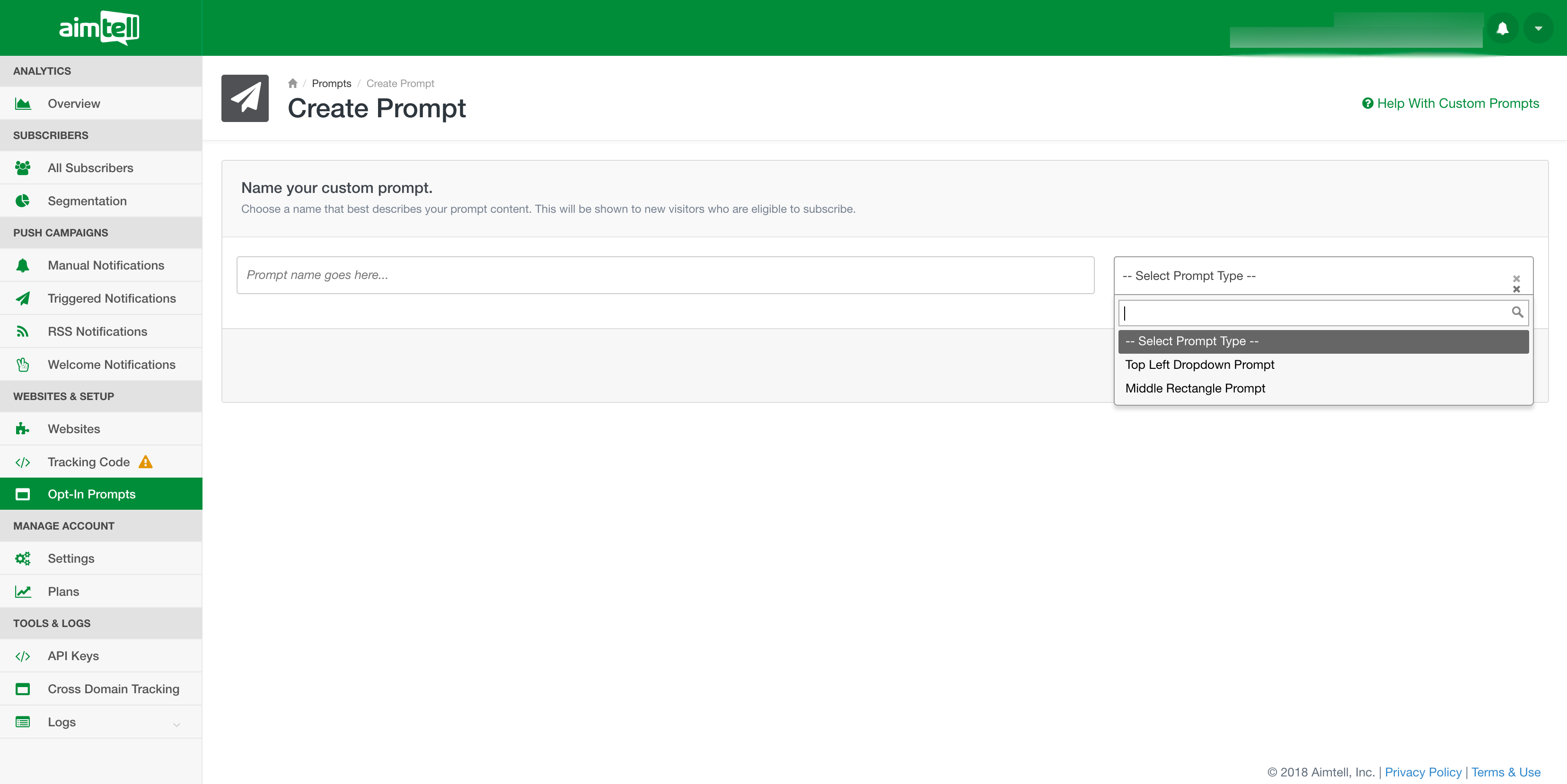 On this screen you will can fill out a name for your Custom Prompt and you have a couple design options to choose from: "Top Left Dropdown Prompt", and "Middle Rectangle Prompt."
For the rest of this guide we will be using the "Top Left Dropdown Prompt" example. If you would like to learn more about using the "Middle Rectangle Prompt" click here.
Give your prompt a name, then click on 'Create Prompt'.
This next screen is where you will input all of the information for your custom prompt. Our custom prompts allow you to create your own headline, body text, and button text. You can also choose the font colors for these elements as well.
As you input your information, the Prompt Quick Preview will automatically update to reflect your changes. The preview displays exactly how the notification will display to your users, so make sure you are happy with how the prompt looks before finishing.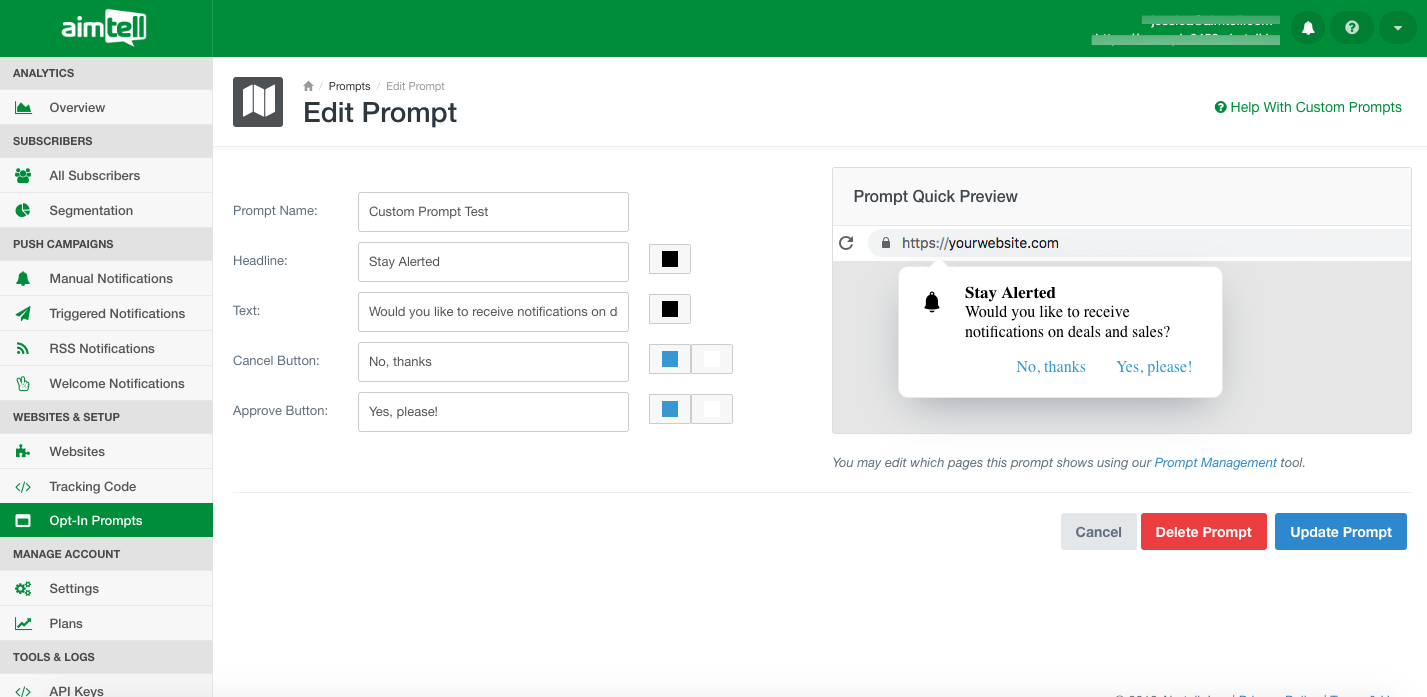 The colored squares are what you select to change the font colors. The second squares next to the Cancel and Approve buttons allow you to select a background color for the buttons.
When you are happy with your prompt, click 'Update Prompt'.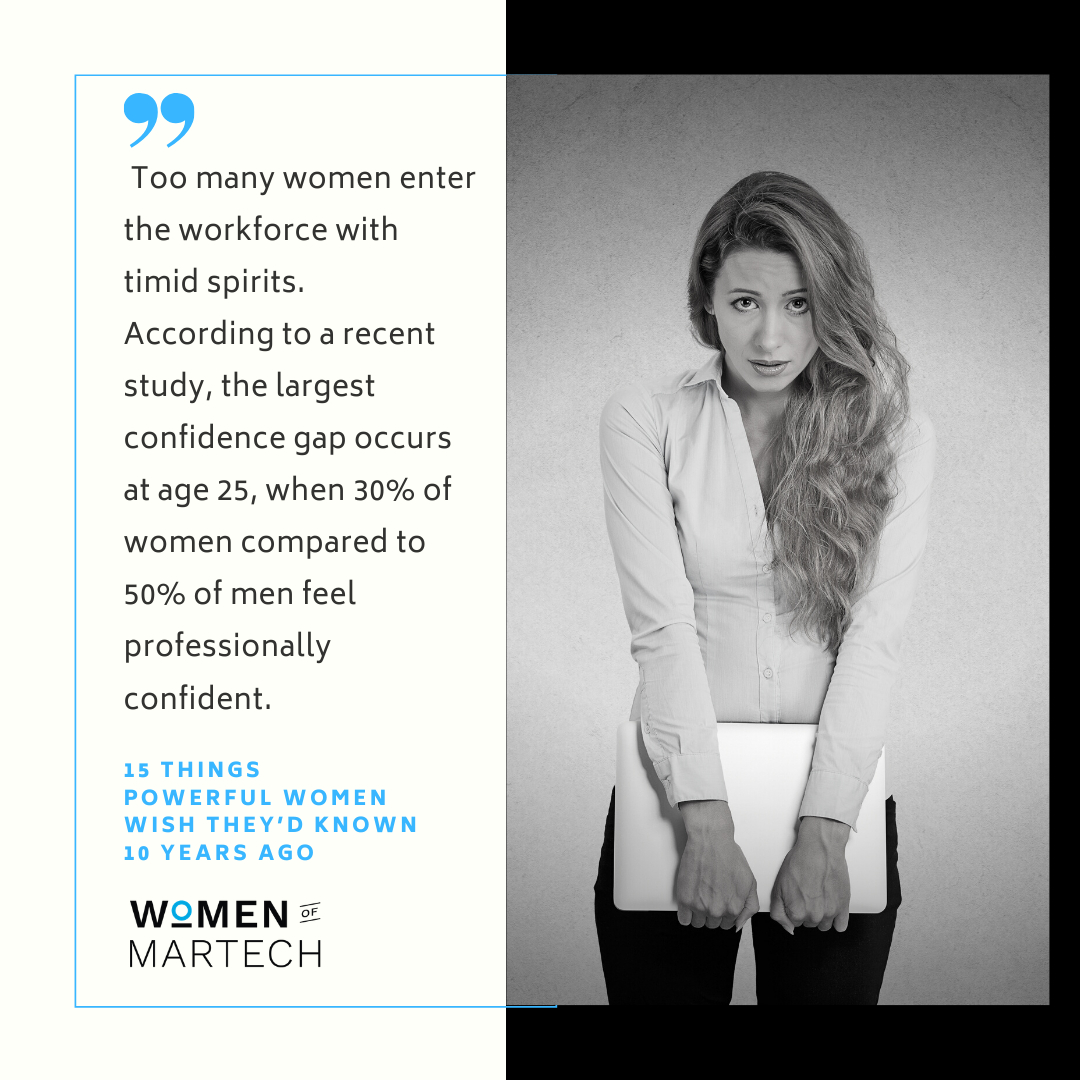 Now that you've created your custom prompt, you'll need to specify when it should show to your subscribers by clicking 'Edit' next to the prompts you've created. If you need help with subscriber prompt management, read our walkthrough here.
If you would like to learn more about customizing your opt-in prompt you can read about it here: