Opt-In Prompts + Subscribers
How often are segments/subscribers updated?
Currently, the average segment updates every 2 hours. At their peak, a segment may take 24 hours to update.
While our ultimate goal is to provide near real-time subscriber counts for both segments and total subscriber counts, this is quite an ambitious goal given the volume of data points collected by Aimtell every day.
Force Updating Subscriber Counts
While this short delay is fine in 99% of cases, we understand there may be times that you wish to see the latest counts of your subscribers. We do have several ways to force update subscriber counts should you wish to do so.
The first method is done by heading to All Subscribers and then clicking "force refresh."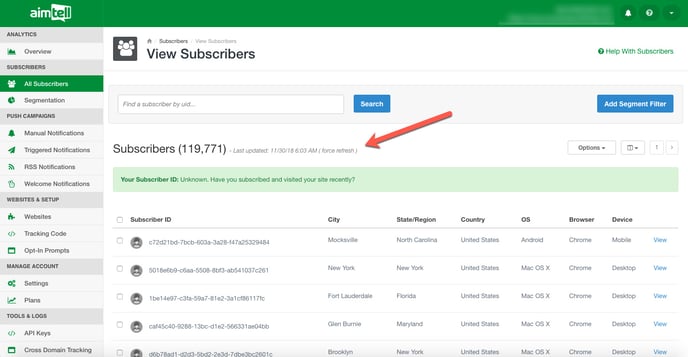 Alternatively, you can hit "Update/Refresh Count" while editing a segment and it will pull the latest count for you usually within 10 seconds.