Discover how to import custom attributes into Aimtell to use for advanced personalization and segmentation.
If you already have subscriber data that you have tracked somewhere else, such as within Hubspot or another CRM, or if you have used web push notifications before with another web push provider, there is a way to import this data in order to use it for both advanced personalization and segmentation.
This data, which we call custom attributes, can easily be imported into Aimtell via an excel file in order to sync with your current Aimtell subscribers based on their subscriber ID or alias.
Before You Begin: Track Aliases
In order for this to work, the data you wish to import must be associated with either a Subscriber ID or an Alias (an email address or user ID). If you plan to use our alias feature, you need to have previously tracked Aliases for your entire database of existing subscribers. Read our Tracking Subscriber Aliases documentation for help setting this up.
If the data you wish to import is associated with a Subscriber ID, you do not need to track aliases.
The bottom line is: You can import any data as long as it is associated with either a Subscriber ID or an Alias.
Upload Custom Attributes via Alias or Subscriber ID
To begin, head to your dashboard and navigate to 'All Subscribers.' Then, from the Options drop-down menu select 'Import.'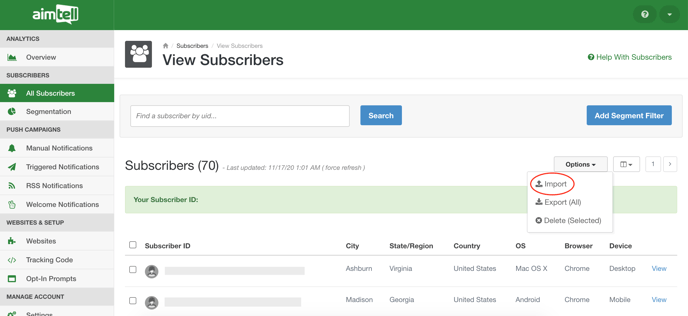 A window will pop up prompting you to upload your file. Once you upload the file, you will be able to preview it before fully submitting it.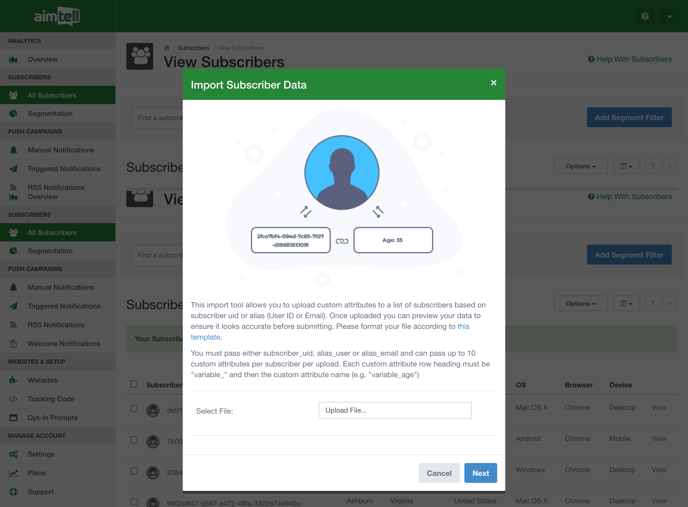 The file you upload must be appropriately formatted otherwise this will not work. We provide a template for you to make this easier, so be sure to use it. You can pass up to 10 custom attributes per subscriber, per upload. Once you upload your file, hit next. You will then be able to preview the first 10 lines of your file to make sure everything looks good.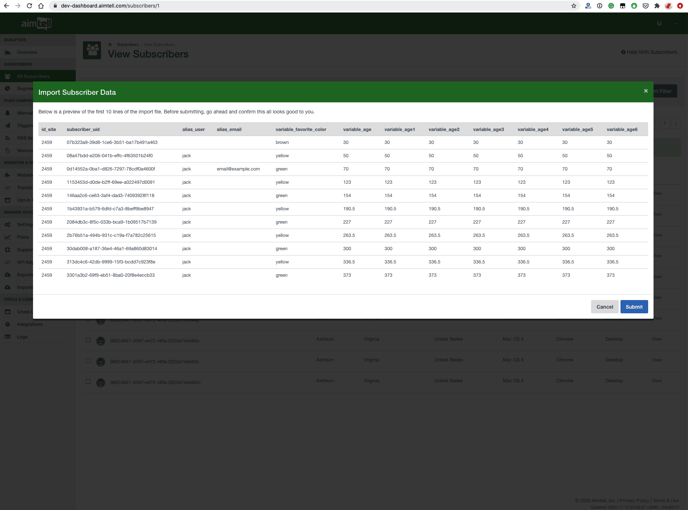 If everything is correct, hit submit and we will begin the import process. You can check on your import by heading to 'Imports' in the dashboard sidebar. This will show you a list of all your imports, as well as what their status is and if there were any errors.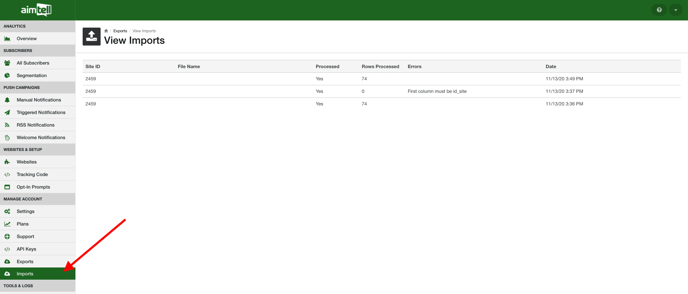 If there were any errors found they will be listed in the 'Errors' column so that you see what you need to fix before trying the import again.
If you need any help with this please reach out to Aimtell Support.