By default, all visitors to your site will receive a prompt automatically asking if they want to subscribe to your website. If you'd like to change when this prompt shows, then please follow the step by step guide below.
Steps
Start off by logging into your Aimtell account and opening your dashboard. From there, click on 'Opt-In Prompts' located in the navigation bar on the left side of the screen under 'Websites & Set Up'.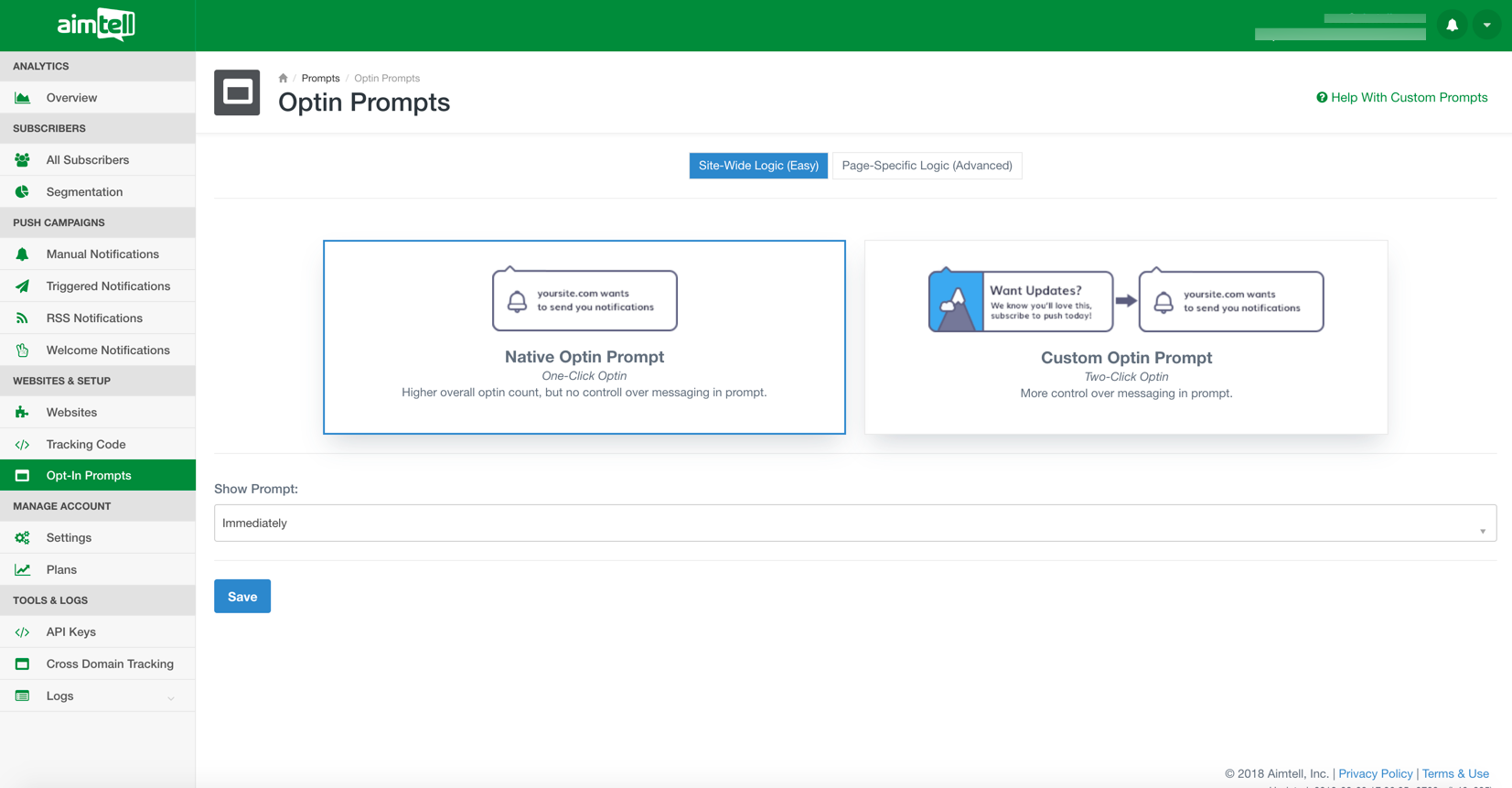 This will take you to a selection of either using the Native Opt-in Prompt or a Custom Opt-in Prompt for your website. If you would like to delay when either of these prompts are shown, you can select which type of delay from this section. You can choose from various methods of delay, such as: On Page Scroll, After X Pages Viewed, After Time Delay, With Custom Javascript.

For more advanced options of displaying your prompt, there is also a column at the top right of the page with two options: 'Site Wide Logic (Easy)' or 'Page-Specific Logic (Advanced)'. Select 'Page-Specific Logic (Advanced)'
You can read more about these options and utilizing them for both the custom and native prompts here:
Customizing The Native Opt-in Prompt
Customizing The Custom Opt-in Prompt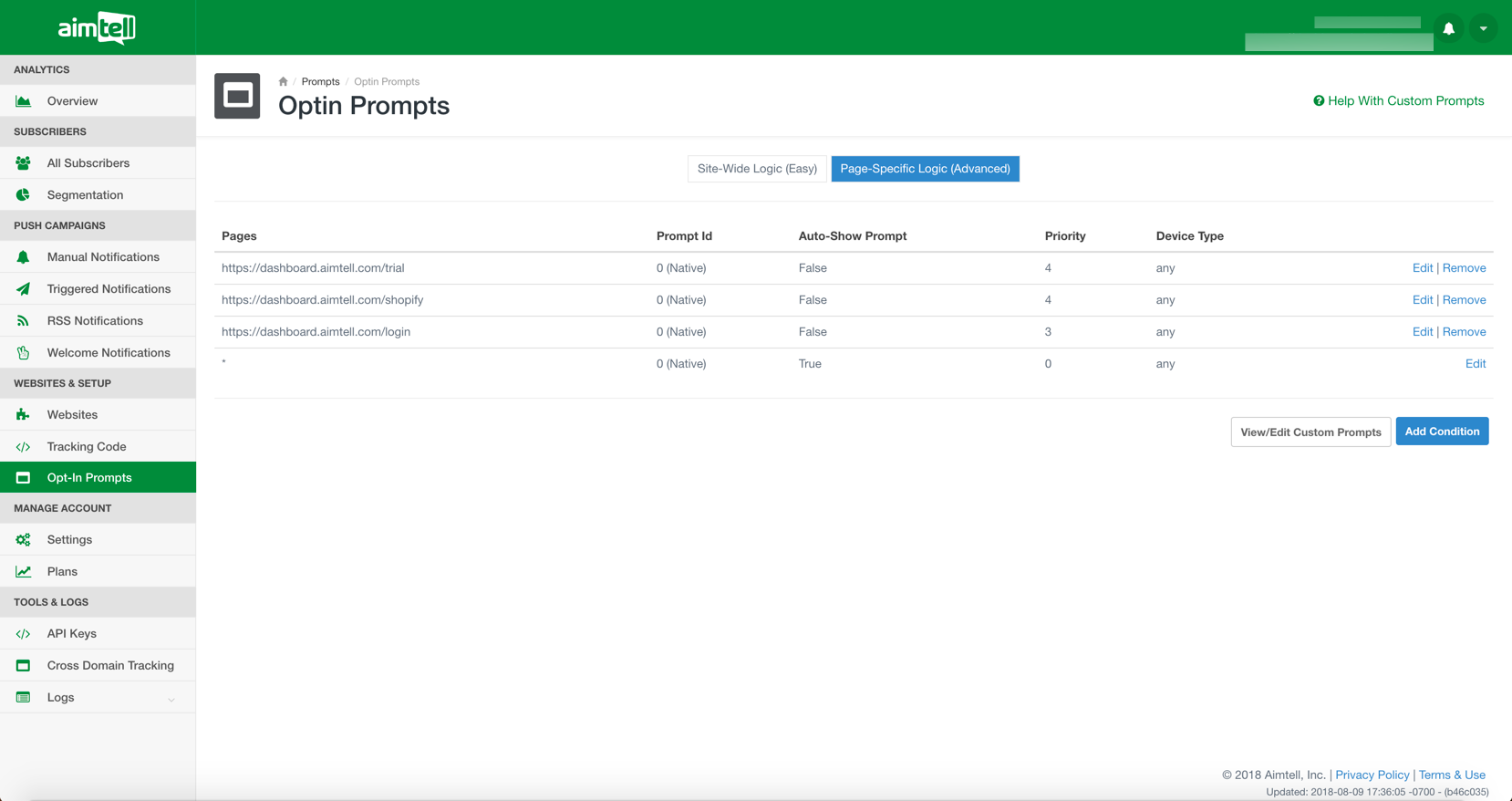 This is the area where you determine which page will display your push notification permission prompt. If there is only one page listed, the default logic will be set (as in when a user navigates to this page, the prompt will be shown). If you wish to change this, select the blue button 'Add Condition.' You may add as many conditions as you like. You can also view your Custom Opt-in Prompts by clicking View/Edit Custom Opt-in Prompts on this page.
When setting up Specific page logic you will need to have a wildcard setup. wildcards allow people to target multiple page urls with one statement. For instance imagine your site has the following pages:
yoursite.com/downloads/guide-one
youriste.com/downloads/guide-two
yoursite.com/blog/post-one
yoursite.com/blog/post-two
If you wanted to use the same prompt conditions for all your blog pages, you could use yoursite.com/blog/* . The wildcard (*) essentially means any number of additional characters
Important note: page specific conditions match exactly as is and include URL parameters. That means if you set a specific prompt to show on "yoursite.com/blog/post-one" and they arrive on yoursite.com/blog/post-one?utm_source=google , that condition would not be met. Instead, you'd need to put it as yoursite.com/blog/post-one* to include any URL parameters.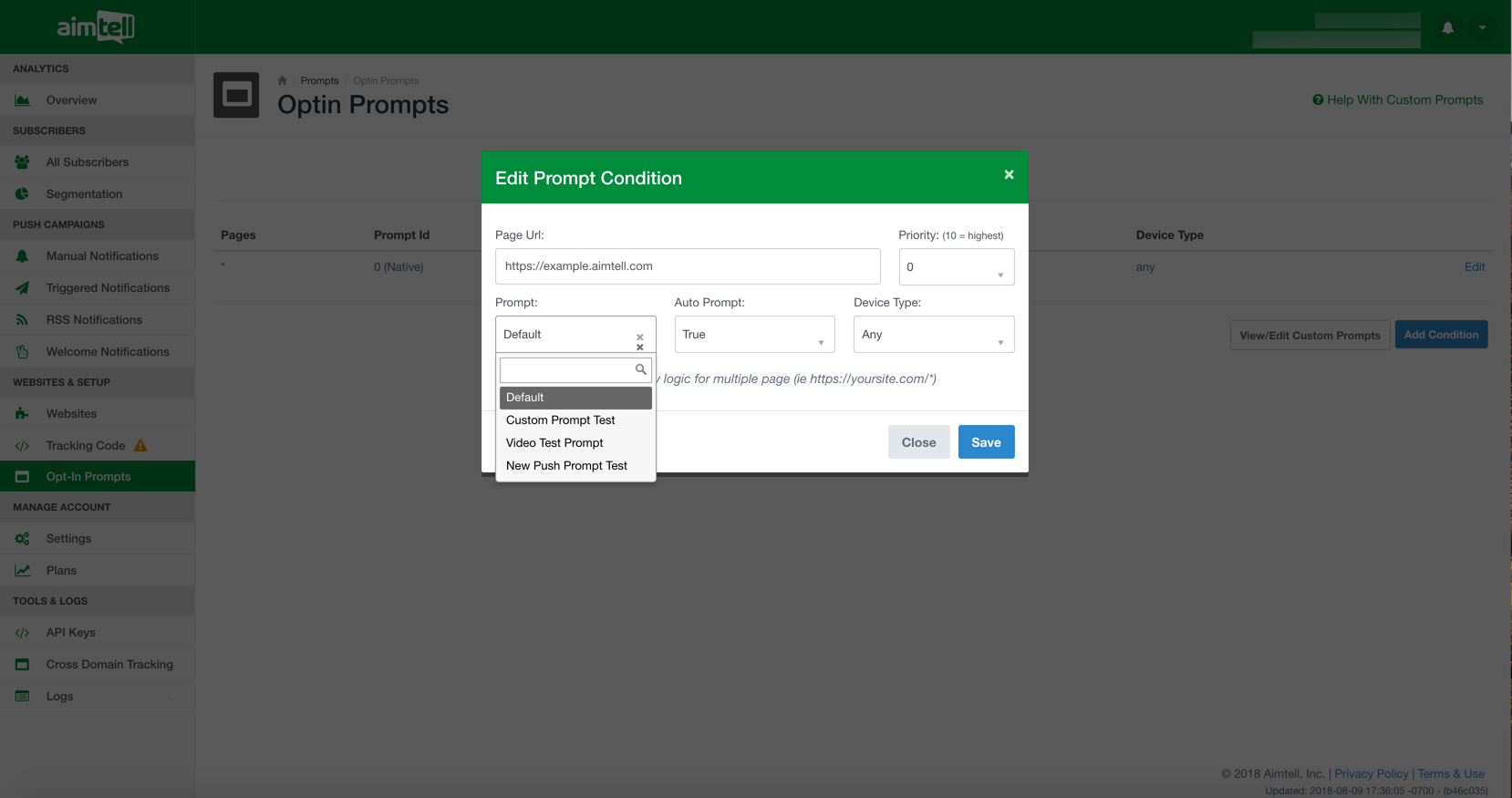 Enter in the page URL you wish to include along with the priority number ranking as well as if you want to employ the Auto Prompt feature. If 'False' is selected, this means the prompt will not automatically be shown when the user navigates to the page. You can also choose whether you would like this custom prompt to display for only mobile users, or only desktop users, or both! Click 'Add' to include this condition. The conditions with the highest priority ranking will always take place, meaning 3 will take priority over 2.
Also, if you would like to delay when this prompt is shown, you can select which type of delay from this section. You can choose from various methods of delay, such as: On Page Scroll, After X Pages Viewed, After Time Delay. You can read more about these features and utilizing them here.
You can also add customization using CSS which you can read more about in this article:
Customizing The Opt-in Prompt With CSS
Note: You can also trigger these prompts manually for when a user selects a particular link image or button. Learn how to do this by clicking here.