Follow these steps to create an introductory web push notification that will immediately send to each new subscriber.
In this document, we are going to show you how to set up a welcome notification that will be sent to each new subscriber to your website.
If you'd like to make a welcome drip campaign (series of multiple notifications that go out over time) please follow this documentation instead.
STEPS:
Start off by logging into your Aimtell account and opening your dashboard. From there, select 'Welcome Notifications.'
Selecting 'Welcome Notifications' will bring you to a screen where you will set up your welcome notification. Input the info requested (title, body, icon, and destination URL).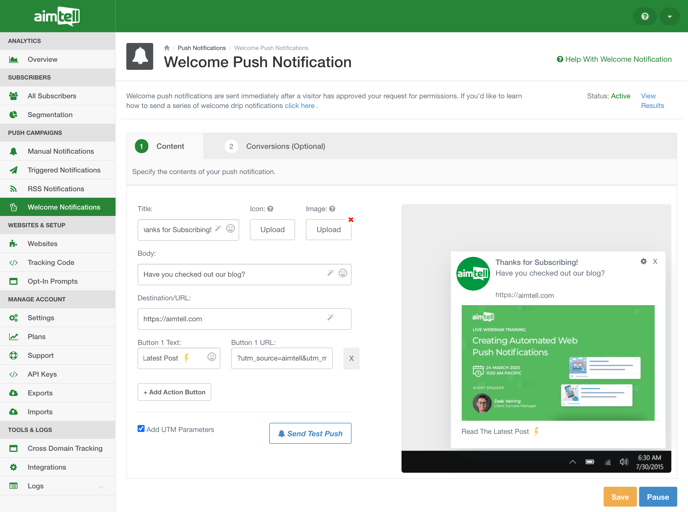 Keep in mind that you can also add up to two action buttons. Action buttons are a great way to customize your push notifications and encourage immediate action. You can read more about this in our utilizing the action button documentation.
You are also able to track conversions that may happen by following the steps in our Tracking Conversions Docs Article on the Conversions(Optional) Tab within the Campaign Builder.
That's it! Now click the 'Status' toggle at the top right to enable the campaign and then hit 'Save' at the bottom of the page. Your welcome push notification will start sending immediately to each new visitor that agrees to be sent your push notifications.