Here is a list of example segments that e-commerce users can build in order to target their subscribers with highly relevant campaigns.
You have a lot of options when it comes to creating powerful segments from your e-commerce subscribers. If you are a Shopify store user, much of this data we track for you automatically, making it easier than ever to get started. If not, this is still all possible for you, but you will have to first set up these custom events and custom attributes. You can learn how to do this by reading our documentation on tracking custom events and tracking custom attributes.
Why segment? This is one of the best ways for you to create more relevant, personalized campaigns that are more likely to result in clicks (and conversions) from your subscribers.
Here are some segmentation ideas that you can try out for e-commerce sites. Keep in mind that to get started with these, you need to have some orders already placed at your site for many of these custom events and variables to start tracking.
To check what is happening at your site, we recommend going to your dashboard and navigating to Logs > Custom Events and Logs > Custom Attributes to see what has already been tracked.
Contents
Cross-Sell to Existing Customers
Nudge Engaged Subscribers to Make a Purchase
Encourage Engaged Subscribers to Make Additional Purchases
Engage and Encourage Brand Advocates
Save Customers with High Churn Risk
---
Goal: Cross-Sell to Existing Customers
For subscribers who have already made a purchase, you can suggest related items they are likely to be interested in. Use this type of segment to either cross-sell or upsell various items in your store.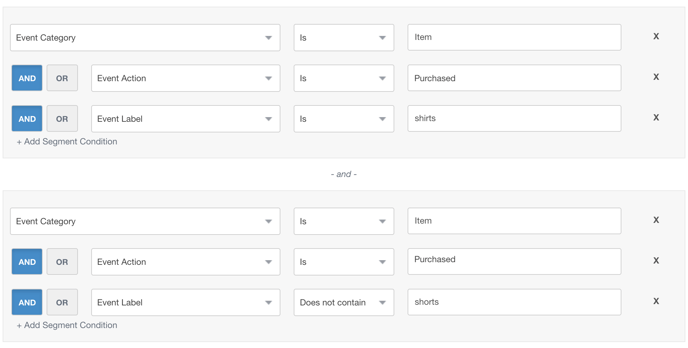 ---
Goal: Nudge Engaged Subscribers to Make a Purchase
These subscribers have engaged at your website and with your web push campaigns a lot but have not yet made a purchase. Consider offering some type of incentive to encourage the sale.
---
Goal: Retain Your VIPs
These are your best customers! Not only are they actively engaged with your site and notifications, but they have also purchased frequently and at a high value. Engage them with lots of exclusive content and perks. For this segment (and any others) that target order counts or total spent, we do not provide actual numbers, as these figures will vary greatly depending on your brand.
---
Goal: Encourage Engaged Subscribers to Make Additional Purchases
These subscribers represent good customers who have the potential to be great. They are engaged with your site but have lower order and spend counts. Encourage them to continue shopping at your store by sharing product reviews or promoting top-selling products.

---
Goal: Reclaim Previous VIPs
If you have subscribers who used to be VIPs but have not recently engaged with your site, try to win them back! Share your latest information or show off a new product to try and get them interested in your brand again.
---
Goal: Engage and Encourage Brand Advocates
This is a perfect segment for any brand that has a referral program. Engage those customers who have successfully referred other customers. Remind them to use their referral points and to continue referring friends and family. Thank them for their help in spreading the word about your brand.
Use any URL or perhaps even something like order count to gate people as advocates of your brand.

---
Goal: Save Customers with High Churn Risk
These customers are likely to churn. While they have made a purchase at your site, they haven't engaged with your site or push notifications in a while. Try to win them back before they drop off completely!

---
Goal: Engage Top Spenders
Your top spenders. Target them with campaigns advertising new products that they need to check out, or alert them when top sellers are back in stock.

---
Goal: Boost Average Order Value
For those subscribers who have a lower order value, try to boost their total spend at your store. Free shipping thresholds work great for this or offer something like a deal on product bundles.

---
Goal: Engage Active Customers
These customers are active at your site and have made a lot of purchases, including recent purchases. Keep them up to date on new sales, best-selling items, giveaways, and more. In this example we included customers who shopped during the month of December, you could choose the last 30 days or another time frame that fits your particular campaign.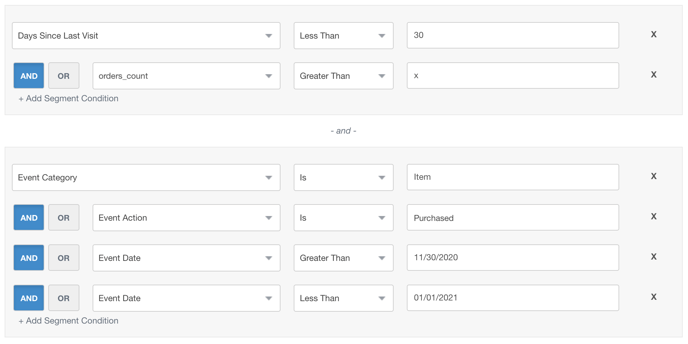 ---
Goal: Boost Customer Retention
The goal here is to turn a one-time shopper into a repeat customer. A thank-you offer can help encourage another purchase, as well as targeted content that shows off what sets your brand apart.

---
Goal: Boost Holiday Sales
Target your holiday spenders and encourage them to shop with you again during the holiday season! Share your holiday shopping guide and alert of Black Friday and other top sales. For this example, we are targeting subscribers who shopped between November 1st and December 31st.