Learn about the type of data that Aimtell automatically collects and what options you have for tracking what could be considered personally identifiable information.
Misc Settings
While we believe data can be an invaluable tool for marketers to provide highly relevant messages to their subscribers, we fundamentally stick to the anonymity brought by web push. Aimtell is fully compliant with GDPR and the EU/US Privacy Shield by default.
As a result, we generally do not collect any Personally Identifiable Information (PII) from your subscribers, other than those explicitly provided by our users through use of our APIs.
That said, occasionally we may introduce new features that enable you to track what may be considered by some to be PII (i.e. IP addresses, emails, or usernames).
To give you greater control, you can enable or disable these options on a site-by-site basis. To do so, head to your dashboard and select 'Websites' from the sidebar and then hit 'Edit' next to the site you would like to adjust your settings for.
At the top, select the 'Misc Settings' tab to pull up the list.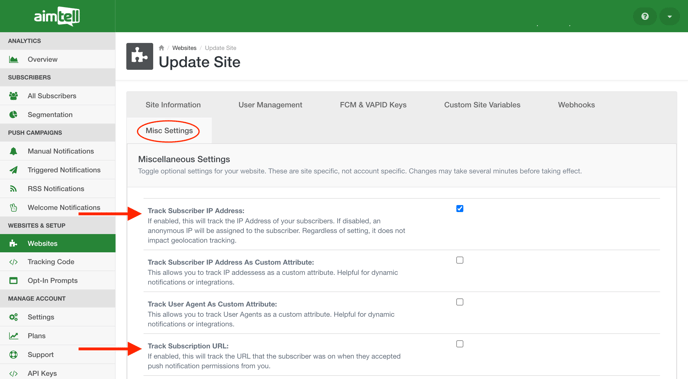 Simply check or uncheck the boxes to enable or disable the feature. These features allow you to track subscriber IP addresses, as well as the URL a subscriber was at when they opted into your push notifications.
Note: Please allow up to 30 minutes for your changes to take effect.
Shopify Users
In addition to the above features, Shopify users also have some additional data tracked for them automatically:

This information is found in the same 'Misc Settings' tab at the bottom of the page. By default, the first three options (email, first name, and last name) are disabled. The rest of the items are turned on by default. If you wish to enable those features or disable any that you do not wish to track, make sure to update your settings and check or uncheck the appropriate boxes.
You can learn more about Shopify data that is collected by reading our Shopify Data Collection documentation.