Learn how to create a new manual push campaign.
In this document we are going to show you how to create a new website push notification campaign.

Let's get started.
STEPS:
Start off by logging into your Aimtell account and opening your dashboard.

From there, click on ' Manual Notifications' located in the navigation bar on the left hand side of the screen. Selecting 'Manual Notifications' will bring you to your Campaigns page for all of your manual campaigns. If you have not created one before, this area will be empty. Click the link that says 'Click here to create your first campaign.'
Alternatively, you can click 'Starter Template' to browse a selection of pre-made templates. If there is one you wish to use, select 'View Template' and then 'Use Template' and it will be added to your list of manual campaigns.



When clicking to create a new campaign, this will bring you to a screen asking you to name your campaign. Type in the name you want and select 'Create Campaign' at the bottom right of the screen. The next screen has all of your customization options for your campaign.
The 'Content' tab will be highlighted and is the area where you input the body of your message along with the additional fields you want displayed.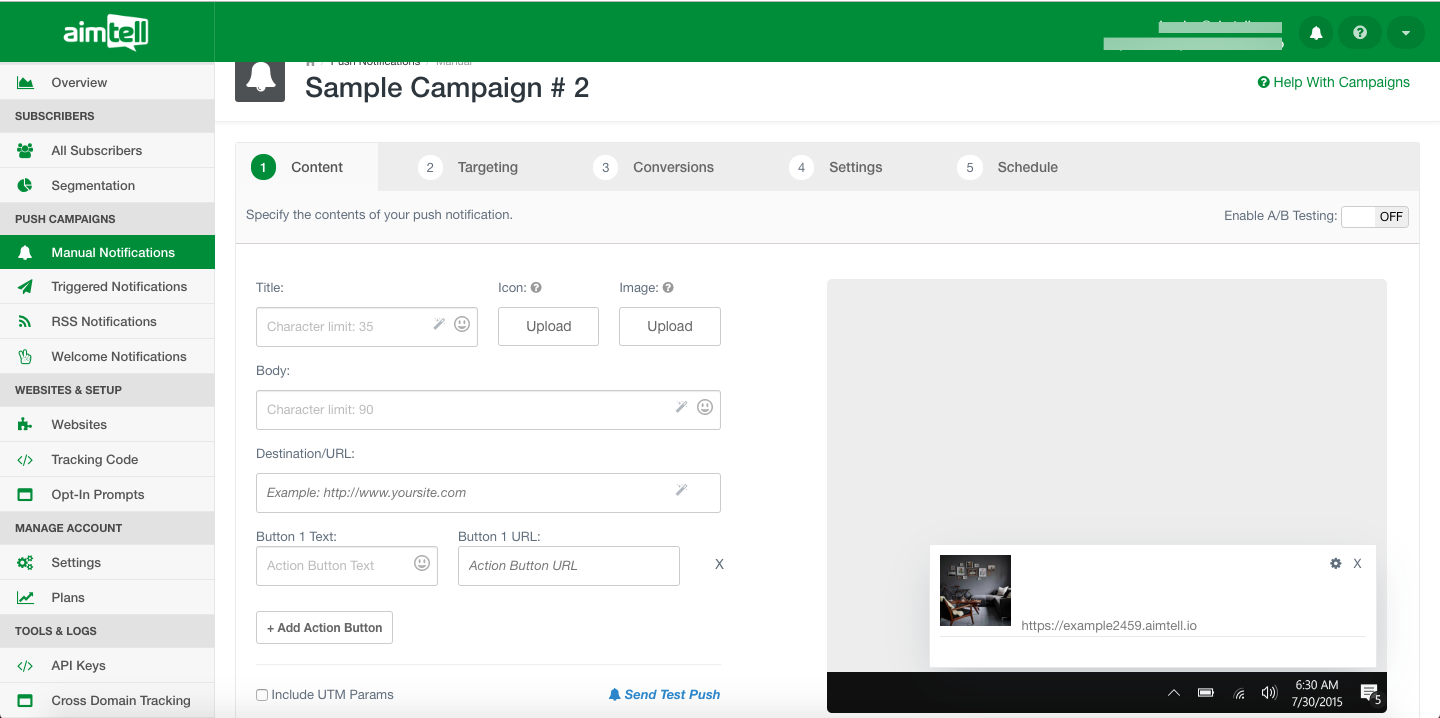 The informational fields include: Name, Title, Icon, Image, Body, and Destination URL.
Here is a description of what each field will indicate:
Name: This will be the name of your campaign for your own reference, i.e. Summer Sale, West Coast Shoppers.
Title: This is the headline of your notification, the first line of text that your subscribers will see.
Body: - This is the description of your notification, the main and largest part of your notification which goes into more detail of the headline.
Icon: - A square image displayed next to your notification. This will grab your site icon by default but can be customized per push.
Image: - An optional rectangular image displayed under your notification. Available on Chrome only.
Destination URL: - This is where you would input the website link that your subscribers will be taken to when they click on your notification.
Example: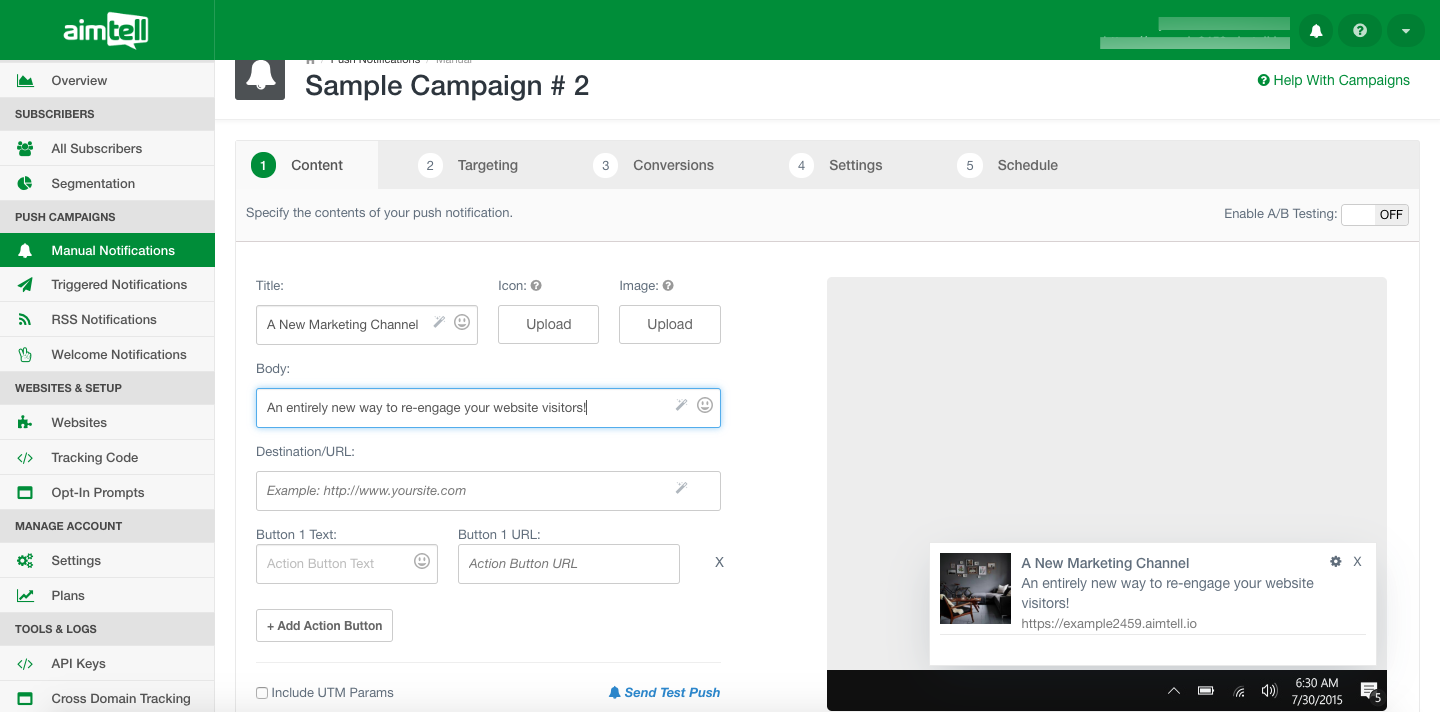 When you have input this information, select the 'Recipients' tab to determine who will receive this notification. From this tab you will select which segment (or segments) you wish to include. You may want this notification to go to all of your subscribers, or you may choose a particular segment of individuals.
Action Buttons: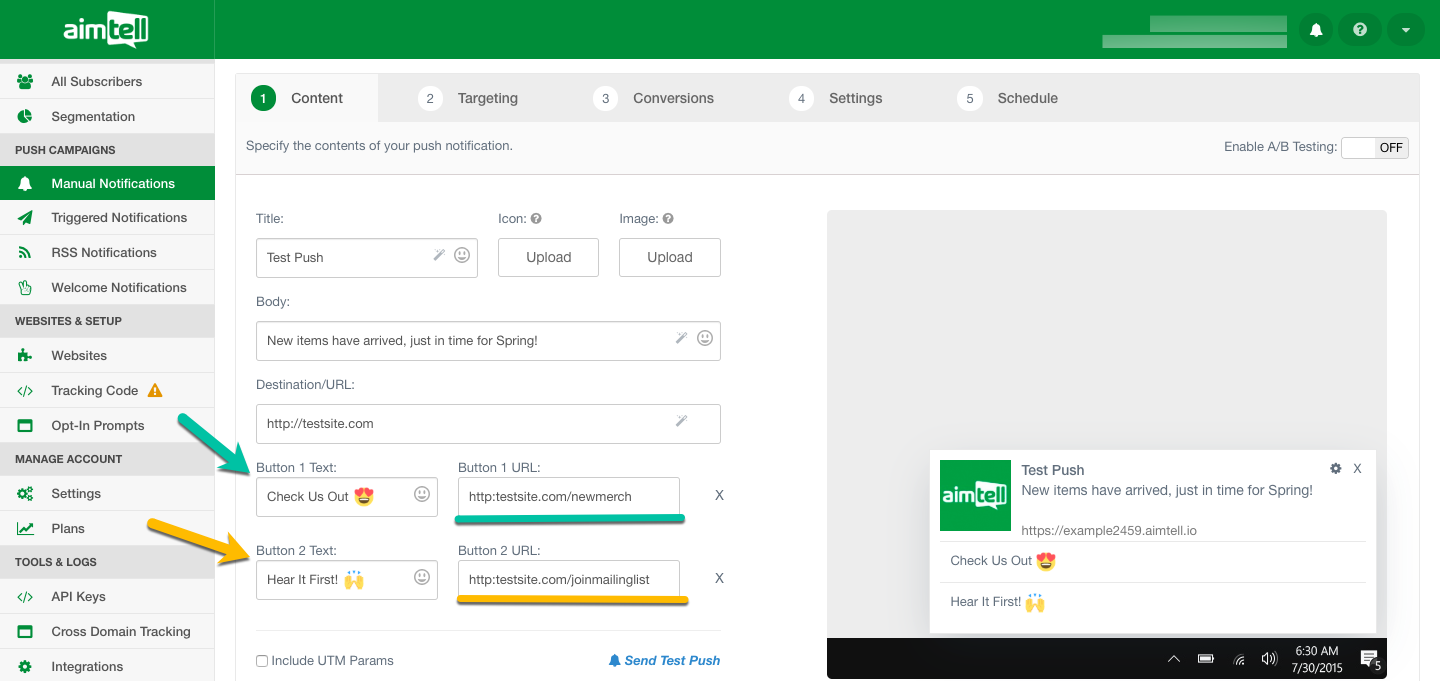 Action buttons are a great way to customize your push notifications and the opportunity to add an additional landing page to your push. You can read more about Utilizing the Action Button.
Notes:
If users are part of multiple segments and you send a campaign to all of those segments, they will only receive one notification.

After determining who will receive the notifications, you can choose to enable conversions. Select the third tab, titled 'Conversions.' You can learn more about enabling conversions here: https://documentation.aimtell.com/hc/en-us/articles/115003935151-Tracking-Conversions

Next you can decide if you want to only send this notification once, or you can choose to have the notification repeat either daily, weekly, or monthly by clicking on the fourth tab Settings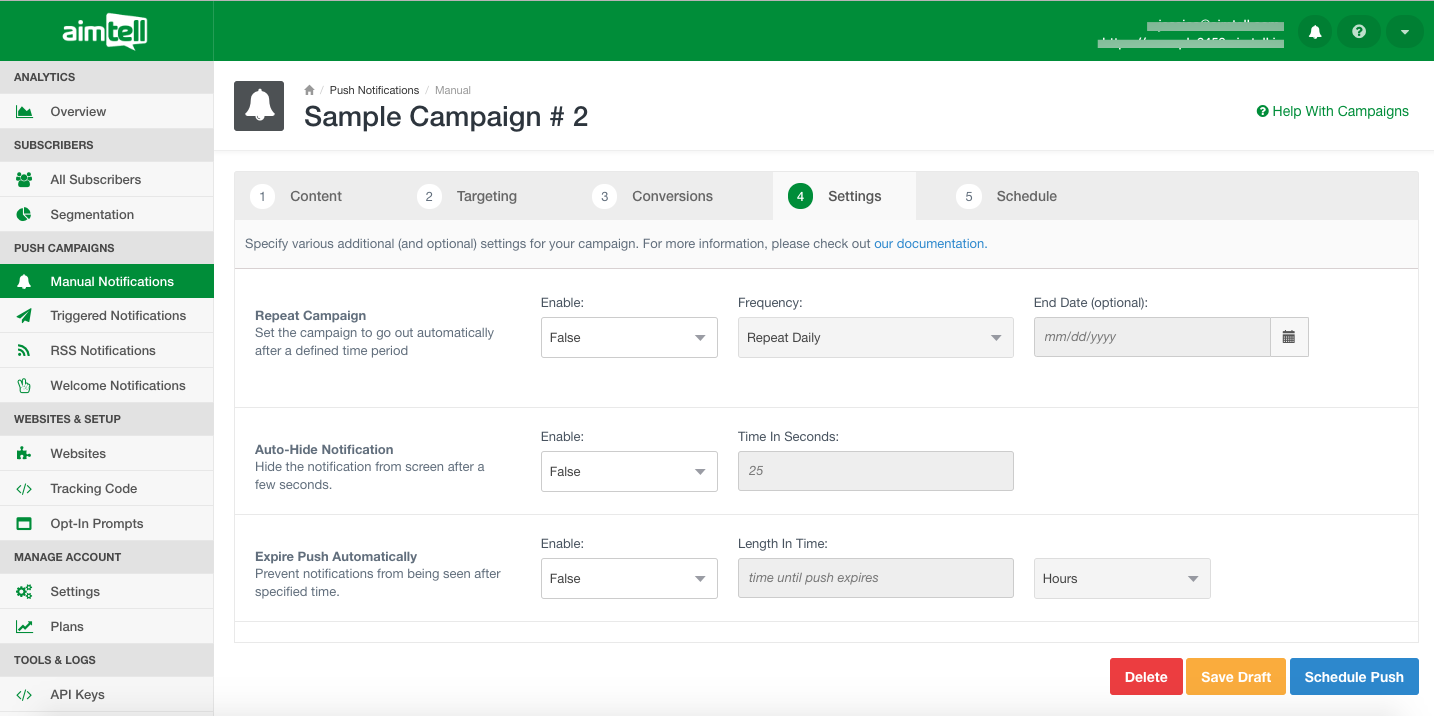 Once here, just change the 'Repeat Campaign' drop down from 'False' to 'True' and select to repeat this notification either daily, weekly, or monthly. You can also set an optional end date if you want the repeat to stop on a certain date.

You can also choose if you would like to expire this notification after a certain amount of days. To learn more about expiration notifications, click here: https://documentation.aimtell.com/hc/en-us/articles/115003935211-Notification-Expiration

Now it is time to set up the schedule on the fifth and final tab. Select the date and time you want your notification campaign to be sent.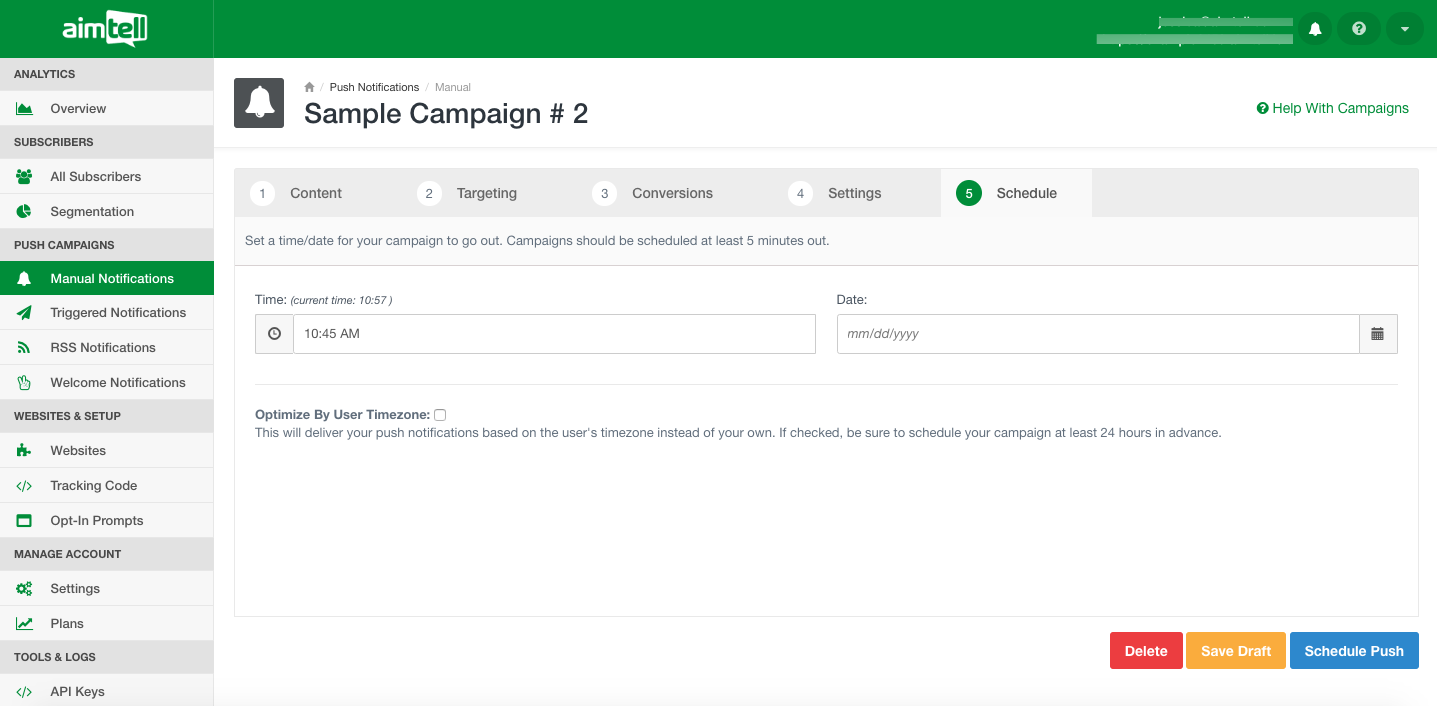 That's it! Select 'Schedule Push' at the bottom of the page and your campaign will be created and will send at the specified time. If at any point you want to pause the campaign, you can do so from the main manual campaign list. Select one (or multiple) campaigns and from the 'Options' menu you can either select to pause the campaign or to resume the campaign.
Campaigns may be saved as drafts and edited at a later time or marked as scheduled. Please note that scheduled notifications will be locked once the schedule date is reached, as they will begin spooling.
RESULTS
To view the results of a campaign head to "Manual Notifications" and then find your campaign in the list. Once you have found the desired campaign click "View Results". The results page allows you to breakdown the notification based on date and an optional segment. Segments are also great way to help measure conversions.
For more details on how to track conversions, click here
If you'd like to see how push notifications look on their respective browsers, click here
Tags: push